A properly functioning heating & air conditioning system can drastically improve the enjoyment that drivers get while using their vehicles. Whether it is a hot summer day or cold winter night, having the ability to change the temperature in a vehicle is something that drivers have come to expect. Norlang Auto is Langley's leader in diagnosing, maintaining, and repairing heating and air conditioning systems.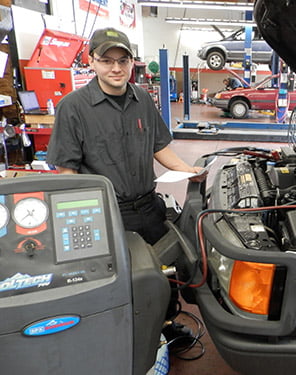 Whether the vehicle is not blowing cool air anymore or the ventilation system is not functioning properly, Norlang has a staff of technicians that can accurately diagnose the issue. By using the highest quality parts, Norlang Auto is putting the customer first. Having quality parts and products ensures that when an air conditioning system is fixed that it will stay fixed. Rather than guessing what may be causing the problem, Norlang's team takes the time to find the root cause and fix that instead of using guess-work.
If you need repairs to your heating & air conditioner system, contact Norlang Auto Repair Langley today!
Word of Caution to our Clients.
We have been experiencing a number of clients coming in with contaminated A/C systems. The most common source is the top up kits that are sold by many big box stores. These kits in many cases contain Propane, Butane or other flammable gases. These become a hazard having to be extracted and disposed of at a greater expense to the client.  Save yourself the money and avoid these dangerous kits!